Everything Is Going To Be Alright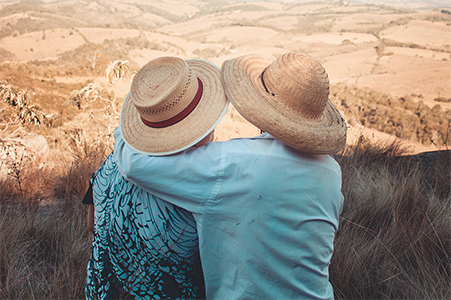 By John A. Martin, CFRE 
There are few words that would describe the last few months appropriately. Extraordinary. Unprecedented. Uncharted territory. Seismic. Anomalous. But even these words don't accurately describe the sense of loss and chaos we may feel. Individually. Organizationally.
A whole new vocabulary has emerged. Pandemic. Flattening the curve. Contact tracing. Community Spread. Social Distancing. COVID-19 has impacted the entire planet in some fashion, through quarantine, isolation, work from home, and it has rocked global financial markets. Over 100,000 people in this country alone have lost their lives. Millions have been affected directly or indirectly. Thirty-two million+ individuals have lost their jobs. Schools and universities are attempting to respond to the needs of our youth. There can be no doubt that we are living through days, weeks, and months destined to make 2020/2021 defining years in history.
And what does it mean for philanthropy, for our industry? For the people we serve? How will we respond?
At MGI Fundraising, our primary concern lies with the health and safety of the people we work with, our nonprofit partners, and those in our communities who are at greatest risk. And while the short-term economic outlook is quite different than it was a few weeks ago, we have tremendous confidence in our future. The financial systems of North America are among the strongest and best regulated in the world and, while the current challenges are different from any we have seen before in our lifetime and will require new approaches, the philanthropic sector has demonstrated its resilience time and time again. Flexibility, creativity, and resolve are key to our continued success, no matter the circumstances. We will rise again to face the challenges head on.
That said, we understand that many organizations' senior staff and board leadership are seeking specific guidance on how to proceed during this period of uncertainty. MGI has extensive experience surviving times of crisis, including economic turndowns, war, and natural disasters.  Through these experiences, we have learned much about the importance of continuous communication and engagement with stakeholders, prudent adjustments to short-term fundraising activities, and a focused commitment to staying the course of an organization's overall fundraising plans.
Here are our best practice guidelines and suggestions for your development efforts in the months ahead:
1. Keep Talking: Keep donors and stakeholders fully informed and deeply engaged. They are interested in how organizations are affected by the current situation, and what actions are being taken.  Your stakeholders want to hear from you, and they want to help. Tell them the truth, do not gloss over the realities of the state of the organization.
2. Be Good Stewards: This is the core of a great fundraising strategy. It shows donors that the organization they've entrusted with their philanthropic donation is appreciative of the gift, has used it wisely and that they've had an impact on the cause. Create an engagement matrix to help you track what you're doing, and when. This is the best way to make the most of your stewardship.
3. Mission, mission, mission: Reaffirm your organization's mission and continuously remind donors of the impact of your work. If you have a special role to play in the current public health issue, explain it. Do not ignore the situation and the individual financial situation your donors may be in currently.
4. Panic is not a strategy:  Avoid wholesale cancellation of fundraising plans. Adhere to your overall fundraising plans and strategies, with reasonable adjustments to your day-to-day meetings, events, and activities, depending on your local circumstances. Be creative!
5. Pivot and Double Down:  Create a detailed plan of action, including a communications plan over the next several weeks, featuring an outreach initiative – personalized notes/emails to all donors and friends, personal calls by CEO and Board Chair. Remain relevant!
6. Technology is your friend: Find ways to more effectively incorporate video conferencing, podcasts, or virtual briefings that make meetings more dynamic and create more personal experiences regardless of distance. Invite experts in your field as guest speakers. Talk about how you will move forward during these times with regard to Covid-19 best practices. Consider how social media or other virtual platforms can serve as temporary alternatives to in-person gatherings.
7. Don't forget the people closest to you: Redouble efforts to help motivate development staff, administrative leadership, and trustees by reminding them of the resilience of philanthropy in difficult times. Donors who feel engaged and connected will continue to support their beloved institutions, especially in times of crisis.
8. Listen Up:  Donors and stakeholders will feel more engaged if you give them opportunities to respond. Communication is a two-way street. Don't just talk to your donors, listen to them. Be creative and think of ways you can encourage donors to speak up, share their thoughts, and add their input.
9. Zooming: Yes, we are now in a whole new world of communication with a new vocabulary. Consider hosting a series of Zoom briefings with stakeholders on issues pertinent to the current situation. Donors and constituents are interested in knowing how a nonprofit is responding to the current situation: whether classes, events, services, or performances are being altered or canceled; how employees are being cared-for; how operations are affected; if any new services or programs are being initiated in response to current circumstances. Remember, some of your major donors may not be tech savvy. Offer them personal assistance in how to participate. Choose one of your staff to reach out and give them one-on-one help.
10. Be Generous: COVID-19 has impacted each of us in some way. Giving is a relationship-based transaction and donors want to know that you value them and are listening to them and are concerned about their wellbeing. Your donors may be going through family trauma, or job disruption themselves. Offer any resources that might be helpful to your stakeholders.
Nonprofit organizations that stay the course, engage extensively with their stakeholders, demonstrate their relevance, and value their relationships, are the ones that emerge successfully from a crisis.  In previous downturns, those who continued to push forward in their efforts ultimately succeeded, and those who took a step back lost ground.  Donors stopped supporting specific entities primarily because they no longer felt connected to them.
I believe that everything will be alright. But not if we do nothing. We must do more. Rethink the conventional, pivot, and embrace the uncertainty. It's time to shine.
Thank you for all that you do to strengthen our communities and improve our world. We hope these suggestions, gleaned through many years of experience amid periods of uncertainty, are helpful as you carefully navigate your development and fundraising efforts in the coming months. Remember – together, we thrive.
---

"To bring about real change we both have to highlight a problem and make people in power uncomfortable."
-Barack Obama
We are committed now, more than ever, to work hand-in-hand with communities to contribute to systemic change to existing policy that will better serve community needs and help rebuild stronger neighborhoods. We will work together to help bring necessary resources to rebuild our communities
It is time to begin the process of healing. It is time to begin the process of making real change. It is time to begin the process of rebuilding.
There is no room for silence. We are listening.
We can do better — we will do better.
John A. Martin, CFRE
President & Managing Partner
MGI Fundraising Consulting, Inc.
John Martin has more than 30 years experience in the not-for profit field, on both the organizational and consulting sides. Through his consulting work with clients seeking counsel for major capital and endowment campaigns, Mr. Martin has earned a reputation as one of North America's top strategists for the not-for-profit sector. His brash mix of social concern and aggressive business smarts has helped raised hundreds of millions of dollars for colleges, hospitals, human service organizations and arts and cultural groups throughout North America. John Martin was chosen the 2007 Professional Fund Raiser. He can be reached via email:
martinmgi@cs.com